Conscious Incompetence
There is a great little model which helps explain the learning process, but is also useful for helping to understand sometimes why communications breakdown. People are often unaware of what they know and what they don't know.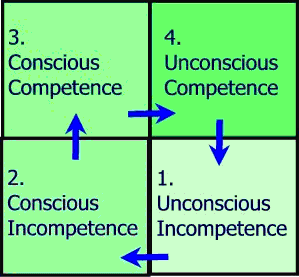 Remember when you first learnt to ride a bike? Initially you are unaware of what you don't know [1], then you try and fall off and realise you can't do this [2], then you can ride if you concentrate hard [3]… next thing you are peddling around and not even thinking about it [4]!
Obviously in real life this is a spiral and you keep moving onwards and upwards as you discover more things and aspects of things that you don't know and then master.
© I-Change Ltd. 2019
I-Change Limited is registered in England and Wales with companies house number 03254769 at: Munstead Lane, Godalming, Surrey, GU8 4AG
Testimonials: We had a complex problem to resolve... we only had one chance to get it right... we needed help in preparing, designing and running the meeting, so we brought in Richard who did exactly that... - Coats - Viyella European Supply Chain Director
click here for more testimonials
What's New?
Article: Management and Change Management
Blog: We've been Trumped... or Brexit pt II
It's not that some people have willpower and some don't. It's that some people are ready to change and others are not. - James Gordon, M.D.