Facilitation
Facilitation is a word that is very trendy and much abused! It is so much more than standing at a flipchart and brainstorming. It is a set of values as much as a way of working. It values everyone's input and creativity. It builds consensus and energises a group. It is a process that helps clarify what is important and where there is energy for change. It provides guidance and structure for your meetings and thinking. The facilitators role is manifold he/she must:-
Design processes for before, during and after the event
Moderate the process
Govern the pace
Help the flow of the meeting by judicious use of tools, techniques and interventions
Make constructive, honest inputs
Enable and empower the team to process their inputs
Monitor progress and pace
Offer feedback on how well things are going
Encourage, counsel, coach and persuade
Energise when necessary
Challenge thinking
Facilitation is very much an art, rather than an exact science. It uses the skills, instinct and experience of the facilitator to judge the right intervention at the right time. Sometimes the point of breakdown in a meeting can be transformed into a breakthrough, with the right touch.
Contact or Call us now to discuss how facilitation can help your business move forwards

+44 1483 208505 or

email us (info@i-change.biz) to discuss how we can help and support you. We offer a free initial review and I-Change has literally hundreds of year's collective experience facilitating groups.
© I-Change Ltd. 2021
I-Change Limited is registered in England and Wales with companies house number 03254769 at: Munstead Lane, Godalming, Surrey, GU8 4AG
Testimonials: "I-Change injected some new thinking around change and with their superb facilitation we made important breakthroughs. As a result of this the team moved forward by at least 6 to 8 weeks." SmithKline Beecham, VP Enterprise Integration
click here for more testimonials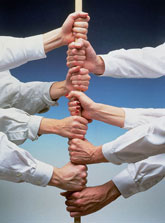 What's New?
Article: Management and Change Management
Blog: We've been Trumped... or Brexit pt II
If you don't like change, you're going to like irrelevance even less. - General Eric Shinseki, Chief of Staff, U. S. Army